DETAIL
Classic course A ♪ with all you can drink ★ All 9 items that you can enjoy grilled dumplings, prawns, peppers and peppers!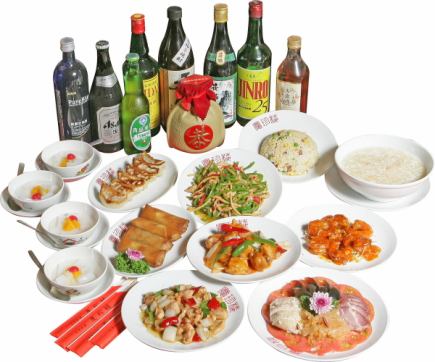 By using a coupon3200 yen
3,200 yen (tax included) / 1 person
Reservation deadline

Coming to the store until the day 12 o'clock desired date
All-you-can-drink for 2 hours!
You can enjoy standard classic Chinese conveniently.
Course menu
Assorted four kinds of cold dishes
Seafood soup
Grilled dumplings or spring rolls
Blue pepper meat
Shrimp chili sauce
Stir-fried chicken and cashew nut
Stir-fried seasonal vegetables
Five fried rice
dessert
※ The contents can be changed according to consultation. Exchange of wonton soup and seafood soup
120 minute system (30 minutes before LO)
※ All you can drink is extended at 500 yen per person (for the number of people).
Coupon that can be used
One secretary is free for visiting over 11 people!

Presentation conditions

When accounting

Conditions of use

Can not be used with other tickets / services

Only course meal available

Expiration date

It is indefinite

Extended course all-you-can-eat 【30 minutes on weekdays / 1 hour on weekends】

Presentation conditions

When ordering

Conditions of use

Can not be used with other tickets / services

Only course meal available

Please contact us when using the reservation

Expiration date

It is indefinite
2018/03/16 update