DETAIL
Classic course B ♪ with all you can drink ★ Ebimayo, Hakotobi etc all 10 items to enjoy!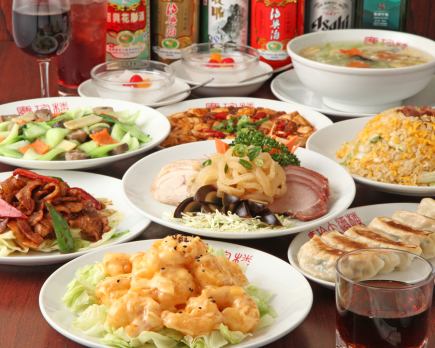 By using a coupon3500 yen
3,500 yen (tax included) / 1 person
Reservation deadline

Coming to the store until the day before the desired date 20
All-you-can-drink for 2 hours!
It is a course with Ebimayo and Hachihachi.
Course menu
Assorted 4 kinds of coolers
Baked dumplings
Stir-fried beef with celery
Ebimayo
Hachihwa
Sichuan Mabu Tofu
Twice cooked pork
Seafood soup
Fried special grated fried rice
dessert
※ The contents can be changed depending on customer's request. Shark's fin -> Sura soup Mai -> Sichuan Mabo Tofu etc Please do not hesitate to consult us.
120 minute system (30 minutes before LO)
※ All you can drink can be extended for 500 yen per hour (number of people).
Coupon that can be used
One secretary is free for visiting over 11 people!

Presentation conditions

When accounting

Conditions of use

Can not be used with other tickets / services

Only course meal available

Expiration date

It is indefinite

Extended course all-you-can-eat 【30 minutes on weekdays / 1 hour on weekends】

Presentation conditions

When ordering

Conditions of use

Can not be used with other tickets / services

Only course meal available

Please contact us when using the reservation

Expiration date

It is indefinite
2018/03/16 update